Will my LBCommunity+ points expire?
Your points will expire at the end of the month after a 12-month period- no matter what loyalty tier you're currently at.
For example, if you earned 300 points on June 15th 2020 and 20 points on June 25th 2020, your point total of 320 points will expire on June 30th 2021. Find out about your point status on the My Rewards page.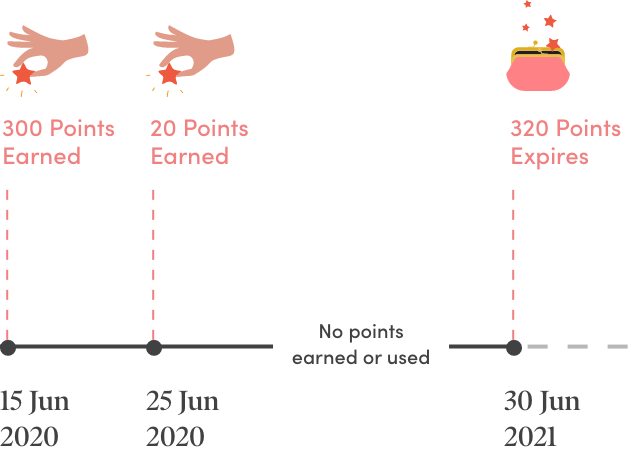 How do I earn LBCommunity+ loyalty points?
You can earn loyalty points by signing up for an LBCommunity+ account, completing your profile and referring a friend (if it's a successful referral!).
For every *US$1 spent online on www.lovebonito.com/intl, you earn 1 point!
That's not all - we've more exciting ways for you to earn your points - check out our current promotions here.
*Note: Points earned are based on your purchase amount alone; excludes discounts, use of gift cards, store credits and shipping fees.
LBCommunity+ is not available in our international stores in Indonesia and Cambodia at this moment.
How do I view my point balance?
You can check your point history and balance on the My Rewards page after logging into your account!
What can I do with my LBCommunity+ points?
This is the exciting part - your points can be redeemed for Rewards!

Head over to My Rewards where you'll see a list of rewards for redemption based on each tier. Choose your reward, redeem them and use your reward(s) upon checkout in your next order with us. :)
*T&Cs apply for each reward.
Can I use my points during checkout?
You won't be able to redeem your points directly at checkout, so if you want to use your points, do head on over to the My Rewards page to redeem some exciting stuff!
Will my points be deducted if I return my order?
Your points will not be deducted if your order is returned for Store Credit. However, do note that points will not be earned for the purchase amount paid via Store Credit.
Can I combine points from multiple accounts into a single account?
Points from different accounts cannot be combined and are non transferrable.
I completed an activity but didn't earn any points! Who can I contact?
Not to worry, write to us at hello@lovebonito.com with your account email and the details of your activity. Screenshots will be helpful as well and we'll do our best to sort this out for you!
Ask
Welcome to Love, Bonito
Can't find what you are looking for?
Welcome to Love, Bonito
Hey, you are now being redirected to the site. Note that your cart will remain active on this site for 30 days.
Go to Site
Stay on this site